HTTP proxy
The HTTP proxy consumes a request and pushes it through to the configured proxy to address. Based on the combination of the hostname and port number, you can send to various addresses. The proxy consumer has a permanent context path configured on "/" and that is why multiple proxy consumers make use of one and the same server context. The server is generated and configured automatically.
This consumer handles routing of the traffic itself. With each request, a message with the collected request headers and connection will be sent to the consumer flow.
However, this consumer does not need, unlike the HTTP/REST- and Webservice Consumer, a reply producer, because the proxy itself can handle the reply.
Being able to correctly send a website depends on a few things, on which the proxy has no influence. 
If, for instance, a webpage contains hard coded links, these links will be called outside the proxy, and therefore do not show up in Analyze. This also means that they can be blocked by a firewall.
When using the proxy consumer for websites, all incoming requests will be sent into the flow as a message. 
This means that pictures that are incorporated on a website as links, will be received separately. The volume can increase very quickly, keep this in mind!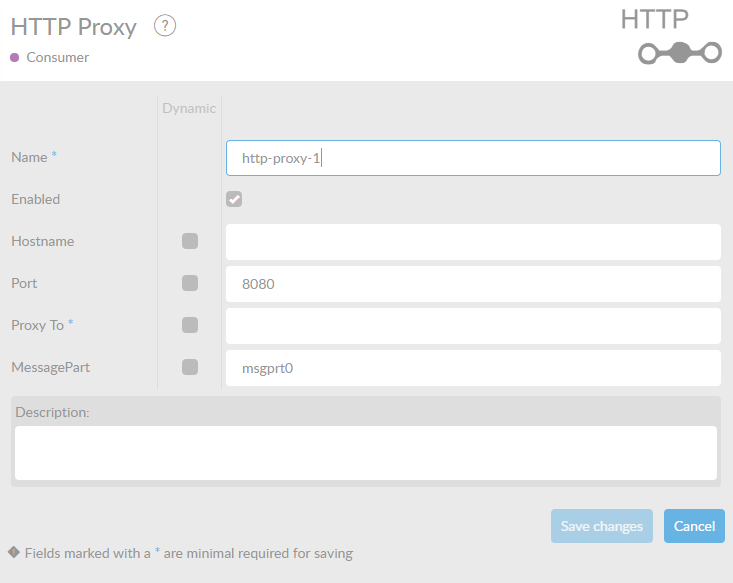 In the table below, you will find an explanation about these properties. All attributes with a '*' are mandatory.
| | |
| --- | --- |
| Attribute | Description |
| Name* | By default, we fill this out with the technical 'tag', followed by a serial number. Changing the name is optional. |
| Enabled | Check this box if you want this consumer to be enabled. |
| Proxy To* | URL to be used to proxy any incoming request to. Be sure to omit any trailing slashes! |
| Hostname | Hostname used to open the endpoint |
| Port | Port number. The default is 8088. |
| MessagePart | Name of the MessagePart in a ConnectMessage where the content of the file is being stored. |
| Description | Description of the specific consumer. This is for documentation purposes. |