The ConnectPlaza® Studio overview gives you an insight into the functional positioning of our iPaaS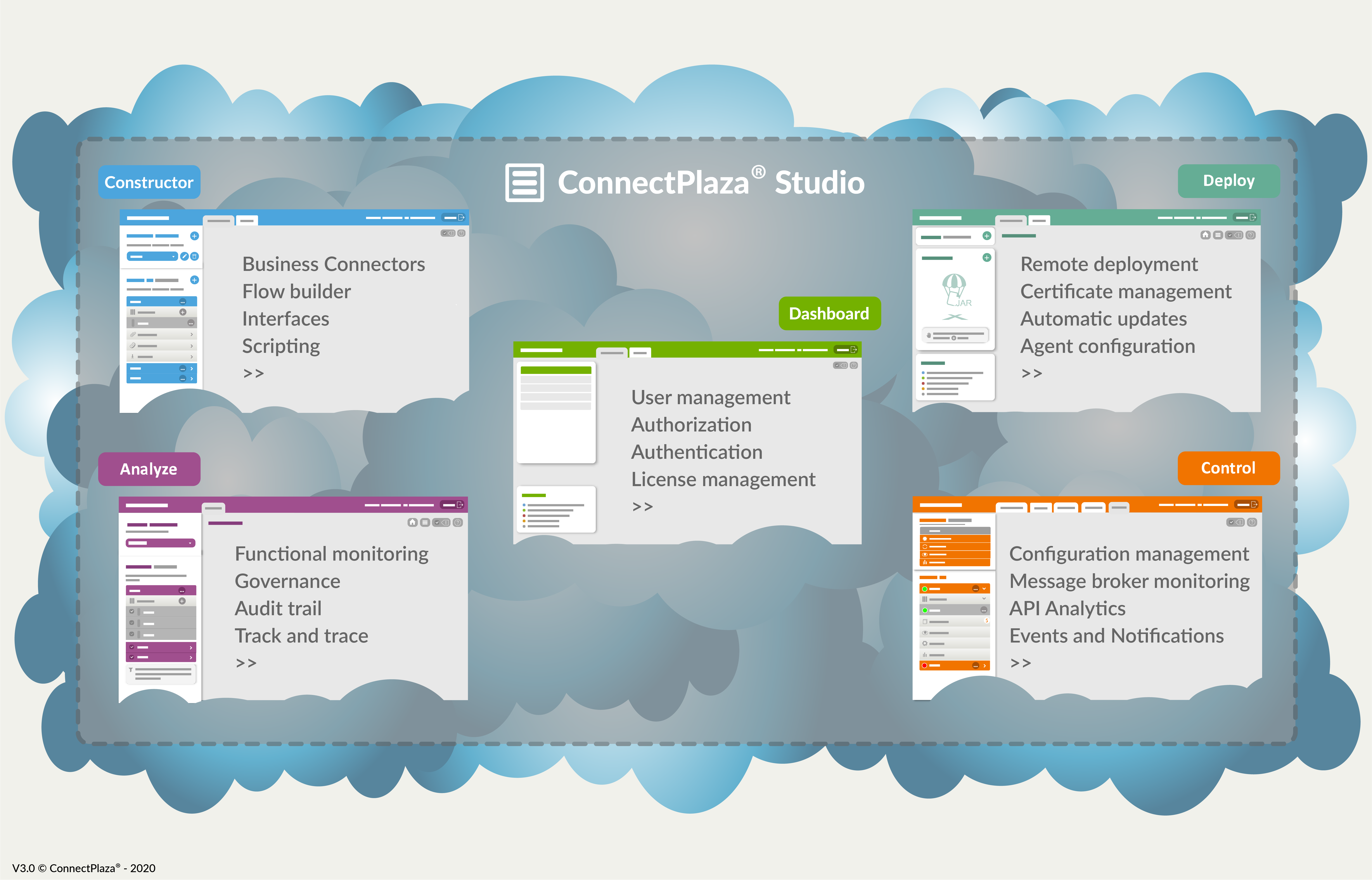 " We know ConnectPlaza as a reliable Partner with a High-Performing and very User Friendly Integration Platform"



Gert Verheyen - Organi BvBa
Companies can build and deploy flows directly from ConnectPlaza® Studio. We deliver tools to help you find your integration data instantly, configure interfaces and get you up and running with integration fast.
With embedded documentation and a full drag-and-drop approach we have succesfully made integration a no-code experience. Our software is easy to install on your environment on-premise or in the cloud and will provide with you with one-click-deployment, direct access to logging and it will automatically update when software updates or maintenance releases are available.

To ensure all your integration efforts are flawless and secure, we provide all kinds of security measures to easily implement in your integration. We support all modern forms of API & WS Security and allow you to manage your certificates directly from the cloud to ensure full secure connections. Additionally we have tools in place to connect your apps to your organizations security infrastructure for Authorization and Authentication purposes.

ConnectPlaza® drives all your integration and API's. Through our core product we deliver all functionality to help you orchestrate, mediate and transform your data to fulfill your integration needs. It delivers all the building blocks to realize all integration flows, providing powerful tools so you don't have to worry about technical details. We deliver all the tools, blocks and functionality to start configuring, no-code style, and connect your applications. Our suite covers support for protocol connections, data transformation as well as domain specific tools for Progress® OpenEdge® and Altova Mapforce, and has out of the box support for EDI and AS/2.

Technical Monitor Services
ConnectPlaza® has tools in place to help you monitor and govern your integration enviroment. By inspecting message data and tracking and tracing information as it passes through, ConnectPlaza® has the tools in place to make sure you run a smooth operation. By making sure problems are turned into notifications and events, you will be able to pro-actively monitor your environment and recover any and all data as it is processed by the ConnectPlaza® runtime agent.

For functional purposes, ConnectPlaza® has added the Business Entities feature, allowing you to configure business rules for storing and retrieving critical business data. This gives a direct overview of business related data and documents as they are processed by ConnectPlaza®. You can find documents using business rules and business key identifiers such as collecting Orders by Order Date, or Invoices by Invoice Number, allowing for an Analytical approach to your business data. You will never lose track of your business data ever again.