Scroll down for more
The affordable 'low code' iPaaS
for ISVs and Enterprises
Anyone can unlock and distribute valuable data
from all types of applications now


"ConnectPlaza® helps AKIOMA to connect our platform with all kind of other Applications and platforms, like e.g. Salesforce®-, SAP®- and Progress® End Users, with a Superior 'No Code' Connectivity Platform"


Mike Liewehr - AKIOMA SOFTWARE
Real-time communication with your business partners is the #1 success factor in today's world.
We help you align and leverage communication and unlock valuable data from all types of applications, cloud apps, mobile devices and IoT.
We have created the only integration platform where you can connect and onboard new businesses without coding or contracting external resources.
We help your workforce to 'drive integration and make business thrive'.
How to use ConnectPlaza for
API Management
ConnectPlaza delivers API Management capabilities to support organizations that have the need to quickly expose API's for their systems, apps or databases and want to do this with as little coding as possible.
Enable business users within 3 simple steps.

ConnectPlaza delivers the following capabilities:
Easily deploy endpoints to our ConnectPlaza Agent
Handle XML, JSON or any other language including validation based on RAML.
Connect your API's to backend systems, processes and other API's.
Completely Analyze and Control your API's directly from the cloud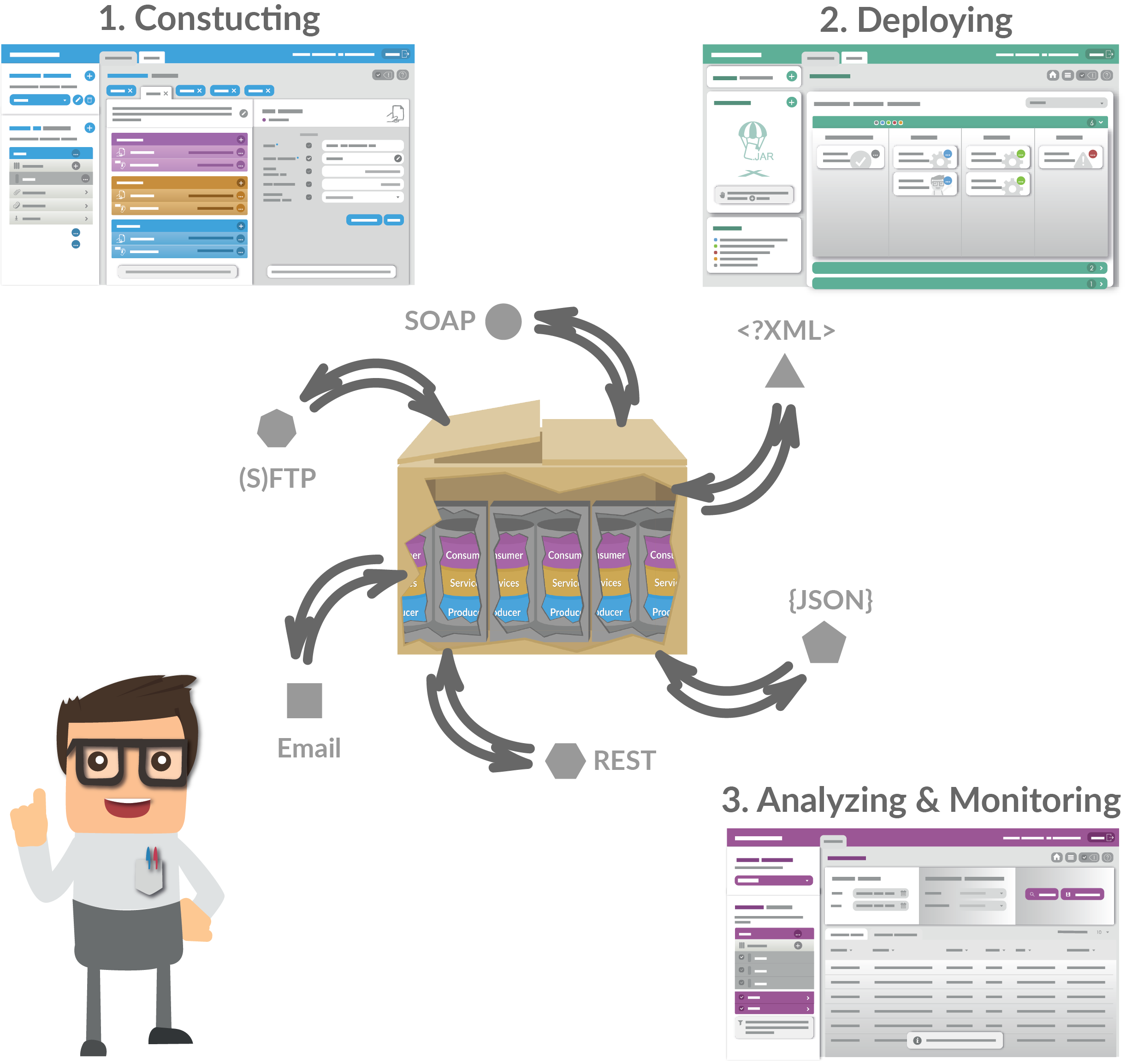 Why ConnectPlaza
Our Offering
'Do it yourself' integration platform to onboard customers and partners, minimize dependencies, and increase employee involvement.
No dependencies with external System Integrators.
Designed and build for ISVs and Enterprises with tight connectivity budgets and limited - In-House - technical resources

Elastic Pricing for Independed Software Vendors (ISVs) and Enterprises
"The iPaaS of choice for Progress® OpenEdge® users"
Your Benefits
Business Analysts can build any integrations with out-of-the-box standard 'Building Blocks'
Connect and Deploy data anywhere and anytime within 3 mouse-clicks
Analyzing and monitoring your data in one view
New functionality and updates without asking.

Our Product
ConnectPlaza® is a 'No Code – No Consultancy' integration Platform as a Service (iPaaS) for ISVs and Enterprises. Our customers use our Platfom because it is fast, affordable, reliable and fun to work with.
We can connect with any type of application, mobile apps and datasources with use cases in the field of:
E-Commerce integration
Salesforce / SAP Integration
Operational Excellence
Move to the Cloud
Application Modernization
AS2 / EDI integrationRead more 
No Consultancy
We provide you with a 'self service' high productivity iPaaS which is 'easy to use'
No dependencies with external resources
Succes Story
"Having now implemented their iPaaS - Connectivity Platform into a Solution, I am pleased to say that ConnectPlaza® are the "real deal". We have found that it out performs other platforms we have attempted to implement.

Anthony Nadalini - Co-Founder & Director - Australia
We'll let our numbers do the talking
Integration Transactions per year
Fit for Progress® OpenEdge®
Building Blocks in Action