Overview of the ConnectPlaza WebSite
The ConnectPlaza Website
After going to the ConnectPlaza portal via the url: https://www.connectplaza.com, you will see the following dashboard appear:

The ConnectPlaza portal is a secure website. Always check your browsers to see if the URL is pointing at the ConnectPlaza.com URL.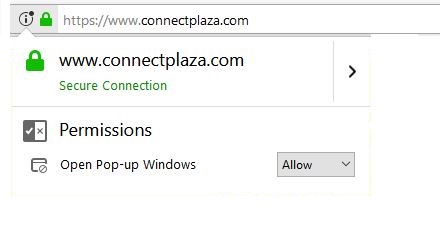 On the main page you will find a menu at the top of our website. This menu looks like this:

This header has the following sections to click on.
| | |
| --- | --- |
| | Click on the logo to return to the ConnectPlaza Home Page |
| | Click on this support number and you will be redirected to our Support Website |
| | Click on this link and you will be redirected to our contact page. |
| | Click on this link and you will be redirected to our social media page. |
| | If you do not know how to find your specific information on our site, let us help you. Click on this button and type your key words, we will find all information about it on our site. |
As you scroll down the menu will change and looks as follows:

This is the same menu, but a little smaller.
The menu persist of the following menu items:
Link
Remarks
Platform

This opens the Platform Menu with all the links to Platform specific items.


You can choose the following items:

| | |
| --- | --- |
| Item | Description |
| Overview | This is an overview about what ConnectPlaza is and what services the platform can deliver for your company. |
| Introduction | An introduction to our vision. Why we build our product the way we did. |
| ConnectPlaza Studio | An overview of our product. You can find some movies there where we will tell you all about the building components of the ConnectPlaza Studio. |
| Building Blocks | Building blocks are the smallest components of our product. In this part you can inform yourself about what those building blocks are and what they can do for you. |
| Flow | Description of what a flow is and what an interface is, within our product. |
| Features | Overview of the features in the different Licenses |
| Licenses | Here you can find the information about our licenses. |
| Community Edition | If you want to try our product, you can download |

Why ConnectPlaza

Here you can find some information why we think you have to use our ConnectPlaza Software.

Item
Description
ConnectPlaza Studio

Here you will find some short videos about our ConnectPlaza Studio Components. You can click on the different parts to select the video you want.

Select Constructor, Deploy, Control, Analyze or ConnectAgent

ConnectPlaza for ISV's
Here you can find some information about oru partner solution for ISV's
ConnectPlaza for Enterprises
You want to integrate your applications in your company? ConnectPlaza Enterprise is the way to go.
How ConnectPlaza works
What kinds of connectivity can you build? This is the place to go to.
Become a connectivity hero
Can you use our platform? Off course you can, even if you are a NON-TECH-WORKER.

Customers

In this section of our site, you can find out how our customers thing about us.

| | |
| --- | --- |
| Item | Description |
| Introduction | Introduction to our Partners and Customers |
| Customer Stories | Check what our customers tell about us |
| Use cases you recognize | Check out some use cases |
| Solutions | Some example solutions for your business |
| Progress Community | Check out what we can do for the Progress Community, with our special developed OpenEgde Integration components |
| Become a ConnectPlaza Partner | You want to become our Partner, this is the place to be. |

Pricing
Interested in buying our product. Check our pricing page.
Resources

Check our resources in this section of our site. These are the subjects:

Item
Description
iPaas definition by Gartner
Description of the iPaaS definition by Gartner
iPaas versus ESB
Documentation about the selected subjects
Platform training
If you want any training, you can check this section to find out which kind of training you can follow.
Technical Guide
This is the ConnectPlaza Technical Guide. All about how to use the different components, how to install them or any other technical question you have, we answer here.
Reference Guide
This is the section you are in now. This is a brief description how the site works and what you see on the screen.
FAQ
The Frequently Asked Questions section
Tutorials
Our ConnectPlaza Tutorials. Want to know how to use our product. Check out those videos
Social Media

Here you can find our Social Media. Follow us by clicking on the appropriate button. Check our Tweets.

You can follow us via YouTube, Twitter or LinkedIn

Company

Her you can find all information about our company. Check out the following links.

| | |
| --- | --- |
| Item | Description |
| Culture | Check how we work at the ConnectPlaza Office |
| About | A brief description about what ConnectPlaza believes in |
| Our Story | How we started ConnectPlaza, read our story |
| History | A graphical overview of our history |
| Contact | Our contact information |

Login
Login into the ConnectPlaza portal
Go the our Community Edition page to download the free version of our product. You can try out the power of ConnectPlaza for free!
Cookies
This site is compliant with the laws regarding the use of cookies of the European Union. When you start the site for the first time you will see a message at the bottom of the screen:

Please keep in mind that this site will not work without cookies.
Home
The homepage of this site has several different parts. In this chapter we will describe the different parts of the main home page.
Header

The upper part of the main home page introduces us to the ConnectPlaza Development Platform. You can access the main menu, get more information or you can get our product immediately, via the Get it now! button.
If you press the

you will be redirected to our Introduction page, where you can find all information about our product line. If you press the
button, you will be redirected to the Registration page for you Free Community Edition License. Check it out now!
Explore ConnectPlaza
When scroll down the at the home page you will see the Explore ConnectPlaza part.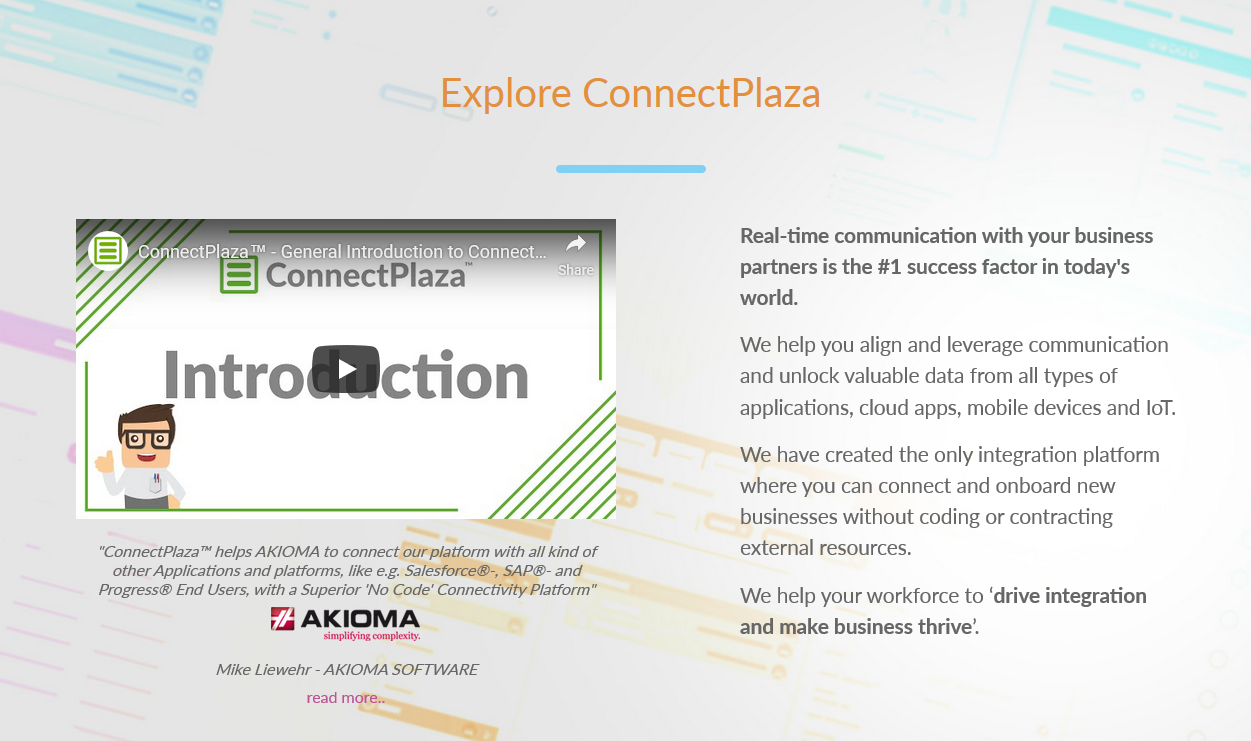 In this section you will get a short introduction of who we are and what we do at ConnectPlaza. There is an introduction movie to introduce you to our company and tell you all about us.
Why ConnectPlaza
Scroll further down and we will tell you why you have to choose ConnectPlaza.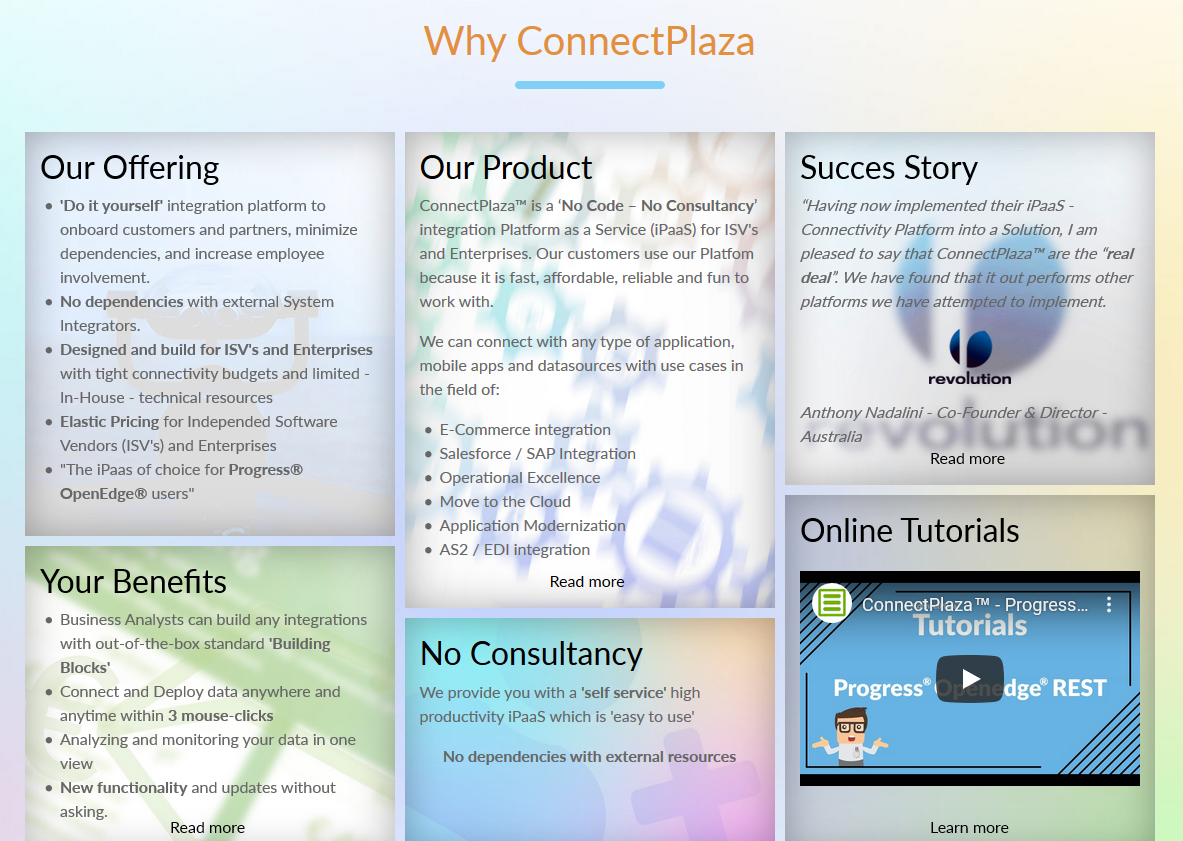 Check out all we can do for you. You can check it out yourself. Use our Community Edition to start-up for FREE!
Numbers
If you want the numbers, this is the section to be.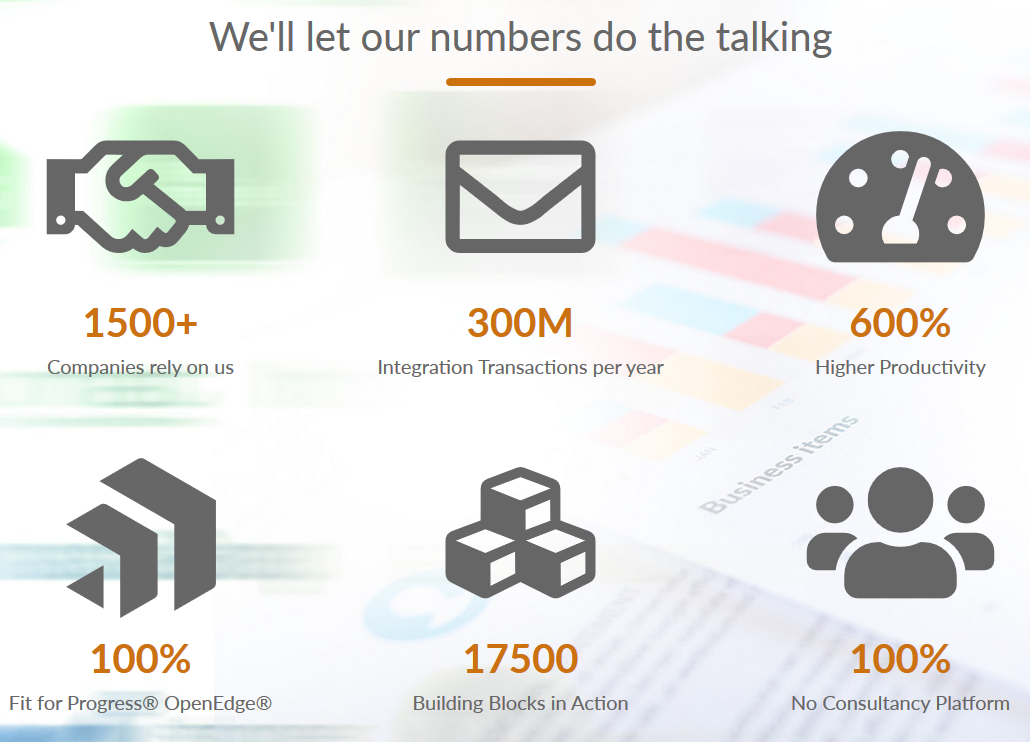 Nothing more to say about those numbers, they speak for themselves.
Overview / Footer
If you missed anything, check the subjects in the footer of the site. Maybe you will find it there.

Just click on the subject of your choice and you will be redirected to the selected page.
Searching our site
A special feature on our site is the search button at the top right of our site

. If you click on this image you will be redirected to our search page.

Initially the page will look like above. The engine searches in the specified sites. Just type in some key words and watch what happens.

As you can see, we selected the key word File and the screen will deliver all the subjects where the word File is specified.
Click on one of the subjects to go to the specific page. Or if you want to leave the search engine, click on the

at the top right of the screen, to return to the ConnectPlaza Website.