JMS on demand poller
JMS OnDemand Poller
The JMS OnDemand Poller is a service, which is used to take messages on demand from a queue or topic (JMS destination).
You can choose to stop the processing of the flow or send a timeout-message further into the service chain if no message is found in the queue.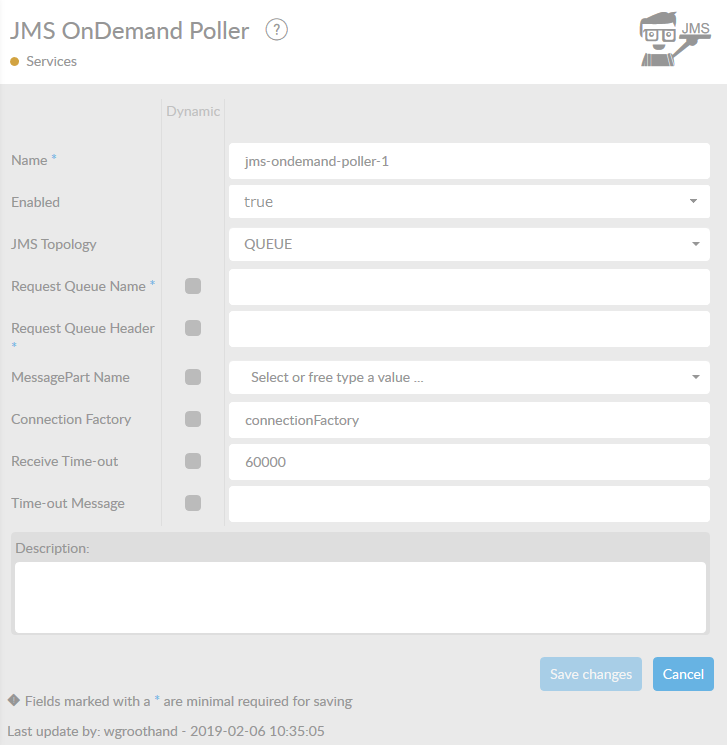 In the table below, you will find an explanation of these properties. All attributes with a '*' are mandatory.
All attributes with a '**', require exactly one of these properties having been set.
| | |
| --- | --- |
| Attribute | Description |
| Name* | By default, we fill this out with the technical 'tag', followed by a serial number. Changing the name is optional. |
| Enabled | Set this value to true, if you want this service enabled at startup. |
| Destination** | This is the name of the Queue or Topic you want checked. |
| Destination Reference** | The reference to a Destination object. This is for topic support. |
| MessagePart Out | The name of the MessagePart, which will be used as output for the service method. On this MessagePart the message of the queue or the timeout-message is put before the message is sent to the other Services or the Producer. The default value is msgprt0. |
| Connection Factory | A Connection Factory determines which JMS environment is u,sed. By default, we'll use a Connection Factory, which is incorporated as a Spring Bean with the name connectionFactory (connect.properties). If a different connectionFactory is desired, you may enter the name of another Connection Factory. This is a Spring Reference. |
| Receive Timeout | The time in milliseconds the Service waits before sending a timeout on the receive. By default this value is -1. This means the service does not wait. |
| Timeout Message | The text sent if no message has been found after the receive-timeout has expired. By default no message is sent. |