Webservice gateway
This service is a gateway to a webservice gateway, this means that the service performs a call-out to the defined webservice and waits for the response.
The content of MessagePart-In is sent to the defined URI and the defined SOAP-action. The result of the webservice is put in MessagePart-Out.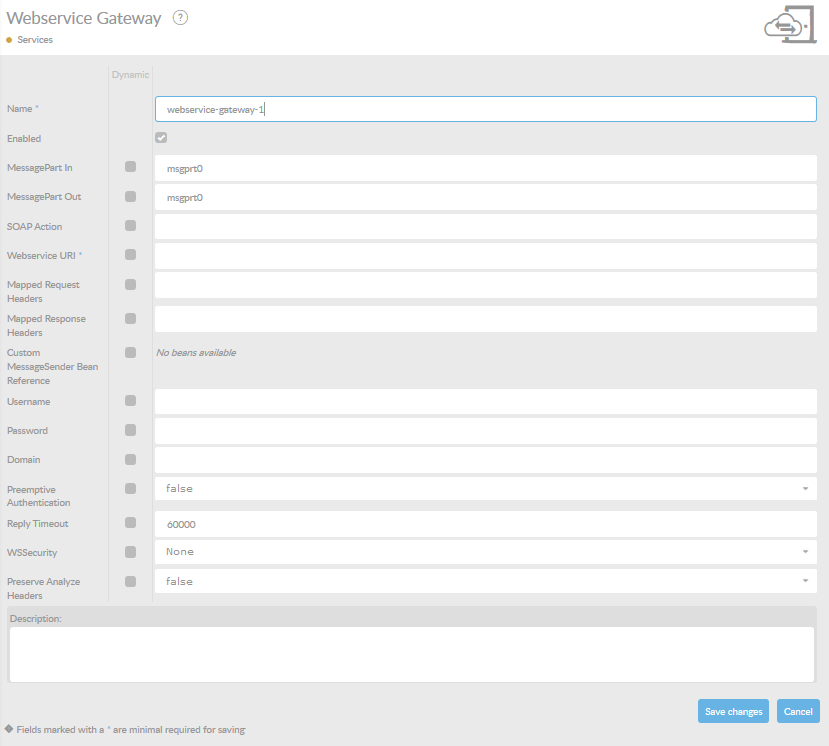 In the table below, you will find an explanation about these properties. All attributes with a '*' are mandatory.
| | |
| --- | --- |
| Attribute | Description |
| Name* | By default, we fill this out with the technical 'tag', followed by a serial number. Changing the name is optional. |
| Enabled | Check this box if you want this service to be enabled. |
| MessagePart-In | Name of the MessagePart in a ConnectMessage where the content of the file is being stored. |
| MessagePart-Out | Name of the MessagePart in a ConnectMessage where the content of the file is being stored. When using 'ALL' the ConnectMessage will be sent out as a SOAP Multipart message. |
| Soap Action | SOAP action URI of SOAP operation to be called. Will set the SOAPAction header. |
| Webservice URI* | Location URI to call webservice. |
| Mapped Request Headers | A comma separated list of headers to be mapped from the ConnectMessage to the HTTP request |
| Mapped Response Headers | A comma separated list of headers to be mapped from HTTP response to the ConnectMessage |
| Custom MessageSender Bean Reference | Specify custom MessageSender bean reference. Advanced use only. |
| Username | Authentication username |
| Password | Authentication password |
| Domain | Authentication domain (for NTLM support) |
| Preemptive Authentication | Specify whether to use Preemptive Authentication. The default is true. |
| Reply Timeout | Time in milliseconds to wait before time-out. |
| WSSecurity | Specify which security method should be used in the soap:Header element when using credentials. Can be set to None, Passwordtext or PasswordDigest. |
| Preserve Analyze Headers | Switch to enable or disable preservation of Analyze headers. The default is false. |
| Description | Description of the specific service. This is for documentation purposes. |