System Requirements
OS / Memory / Cores

Type

Minimum requirement

Preferred for initial production fase

OS

Linux minimal kernel 2.6
- Red Hat / CentOS 6 (7 prefered)

Windows Server 2012 or higher

Linux minimal kernel 3.1.x
- Red Hat / CentOS 7

Windows Server 2016 or higher

Memory

4 GB

8 GB

Number of Cores

1

2

Internet

Required for license checks

Required for license checks
Software
Software

Version

Java JDK

1.8.0

Version 181 - 251


This can be Oracle's JDK or the JDK of openJDK (from Oracle)


ConnectAgent

3.6.0

With with Adopt OpenJDK we have encountered problems with, at least, Windows 2016 server. The Java version mentioned above, will work. Later versions of the JDK may return JNA (Java Native Access) errors.
Firewall settings
ConnectAgent and ConnectPlaza are connected via the internet to each other. Therefore you will pass, in most cases, one or more firewalls.
ConnectPlaza and the ConnectAgent use the following URLs:
URL

Description

https://www.connectplaza.com
IP: 193.202.23.226

Main site for ConnectPlaza

update.connectplaza.com
IP: 193.202.23.226

Here the connectAgent can find its updates. It is primary an FTP Server.

backend.connectplaza.com
IP: 193.202.23.227

This address is used by de connectAgent to check its license. This applies only to connectAgents which do not use the reverse gateway.

https://rhttp.connectplaza.com
IP: 193.202.23.239


Connectplaza Reverse Gateway
ConnectAgent will use the following default ports:

| | |
| --- | --- |
| Port number | Description |
| 80 | Default HTTP port |
| 443 | Default HTTPS port |
| External IP address of agent | NON RHTTP ConnectAgents only (see below) |
If you do not use the RHTTP connection to ConnectPlaza, please be certain that you have authorized the external IP and port in your firewall for inbound and outbound traffic. The Deploy application cannot connect to your agent and you cannot deploy your interfaces as traffic is blocked by your firewall. Also the ConnectAgents license check cannot be performed and therefore your ConnectAgent will not start.
Port 80 and 443 need to be open for inbound / outbound traffic always.
Using NAT
If you are using NAT, you will probably have no problem contacting the ConnectPlaza environment. If you are not using the RHTTP connection, the only connection you have to verify is the connection from deploy to your connectAgents machine. Check if the inbound and outbound traffic from the ConnectPlaza site via your external IP Address / Port is allowed.
D
ownloading the software
Before you can begin installation, you have to download the required software.
J
ava JDK
Download the JAVA JDK at the Oracles website or use the OpenJDK version.
ConnectAgent
Your ConnectAgent can be downloaded from the Deploy website. Here you can preconfigure you ConnectAgent and download it with a preconfigured configuration to ease your installation. To download the agent follow the next steps.
Login at the ConnectPlaza website with a Developer or End User account

If you login with a Developer account, choose the Deploy application.

Wait until the application is finished trying to connect to the agent. This is default behaviour. It will probably not find any agent. You will end up with the next screen.

Press the next to the Agent generator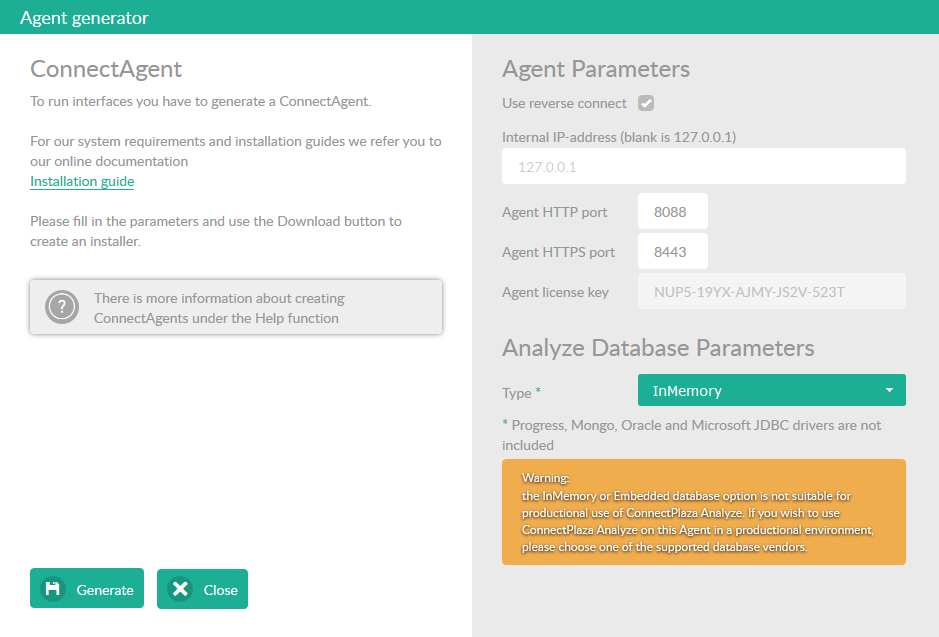 Fill in your preferred settings (RHTTP)

Field name

Description

Use reverse connect

Check this if you want to connect to the RHTTP connector.

As you always want this, do not touch this parameter.

Internal IP Address

Your internal IP address or Hostname. This is the name or IP address how the machine is recognized in your internal network.

Agent HTTP port

Port for internal HTTP traffic. Default 8088

Agent HTTPS port

Port for internal HTTPS traffic. Default 8443

Agent license key

Your ConnectAgent license key. The key is generated by the system and you cannot modify it.

Analyze Database Parameters


If you have an Analyze license, you can select a preset analyze database here. The following options are available:


InMemory

Oracle8

MySQL

MongoDB

Embedded

SQLServer

Remember that the needed JDBC Drivers are not always included in the system. Add the needed .jar files to the connectplaza-agent\jars\endorsed directory. Restart after implementing the correct interface.
Push the button to generate the ConnectAgent and save it to your machine. De default filename is agent.zip.